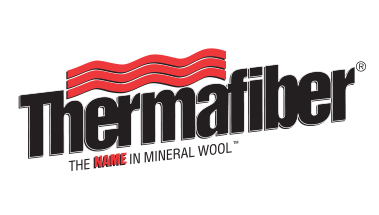 Thermafiber, Inc.
From its inception, Thermafiber, Inc. (an Owens Corning company), has been dedicated to improving life safety and fire protection by manufacturing mineral wool insulation for commercial, residential and industrial applications. Today, Thermafiber mineral wool resists fire and temperatures in excess of 2,000˚ F while also providing sound control and energy conservation.
Applications of mineral wool include:
Burj Khalifa-2
Interior and exterior walls
Pipes, ducts, cables
Furnaces and kilns
Sound enclosures
Acoustical ceiling tile
Asphalt mixes
Brake shoes
Office furniture
Cements and coatings
Our mineral wool contains a minimum of 70% recycled content, and it's non-combustible, inorganic and mold-resistant. Thermafiber is the #1 specified brand of commercial mineral wool.
Our products and engineering expertise help to protect notable buildings worldwide – including the Petronas Towers in Malaysia and the Hearst Tower in New York – and hundreds of conventional offices, hospitals and stores. Thermafiber insulation is installed in 6 of the 12 tallest buildings in the world. The most recent addition is the Burj Khalifa tower in Dubai, U.A.E. The Burj Khalifa is currently the world's tallest building.
Thermafiber creates mineral wool from rock and blast furnace slag, a byproduct of the steel industry. We melt the raw materials in a furnace at temperatures above 2,600˚ F and spin them into fibers. We then package the fibers loose (granulated) or form them into insulating blankets or boards.
Thermafiber was founded in 1934 and is headquartered in Wabash, Ind., USA.