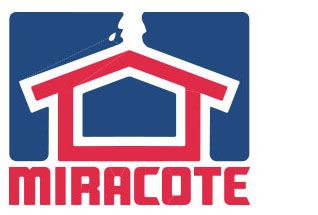 Miracote
Miracote's materials restore concrete that has deteriorated to "like new" appearance. There is an enormous worldwide demand for materials that bring worn concrete back to life. Concrete deteriorates in response to normal aging, acid rain, salt attack, and high traffic and Miracote products are specifically designed to restore its appearance and provide additional serviceable longevity.
Miracote's decorative materials that not only restore the concrete, but offer a wide variety of design and finishing options that create appealing aesthetic finishes. Textured finishes, simulated brick, tile, and flagstones are all achievable with Miracote. To meet the need for architectural paving, Miracote introduced its stamped overlay system, Mirastamp, which comes complete with overlay screed, liquid release, stains and sealers. Waterproofing systems, pigmentation products, coatings and sealers are also available.
Remember, whether your concrete is in need of repair or just needs a face-lift -- Don't Replace It, Miracote It.